Our Richardson Sprinkler Repair Team Delivers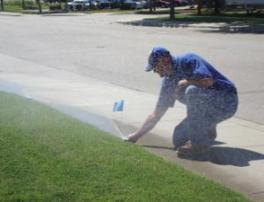 If you haven't had you're sprinkler system checked in the last 2 years, chances are it's not working at its full potential. Even if the sprinkler heads all still pop up and there are no areas where there is water pooling, your lawn and planting beds may still be getting insufficient or excessive water. Why? Landscapes are living, growing, ecosystems that change over time. Our Richardson sprinkler repair team is trained to evaluate and optimize your system to make sure it is meeting your current landscaping needs.
There are literally hundreds of things that can cause a residential or commercial irrigation to fail. The good news is we work like forensic detectives. When your system isn't living up to your expectations, call us in and we'll locate the problem quickly and get it fixed. Most sprinkler system problems can be tracked to one or two pop up heads. These heads can easily get clogged with debris from lawn mowing or from rain drainage. While these problems are generally easy to find, they aren't always easy to clear. We often have to remove the entire head and do a thorough cleaning to clear all of the debris from the unit. Broken heads are another common problem. Plastic heads get broken from time to time from being hit by rocks chipped by a lawn mower or even being chewed on by local critters. We carry every make and model of sprinkler head with us in our service van so we can pop a new one in, no problem.
Why Call a Professional Irrigation Contractor in Richardson, TX?

We have been serving DFW for over a decade.

We don't waste time. When we schedule a job, we arrive on time and ready to work.
We strive to provide a fair and honest summary of the job, as well as an accurate pricing estimate.
We know which equipment will last, and which timers you can program without an instruction book.
We can install outdoor lighting, drainage systems, and brand new sprinkler systems.
We guarantee parts and labor for one year after service.
Our new sprinkler installations last upwards of 20 years!

---
Our Sprinkler Repair Team Knows Sprinkler Heads Inside & Out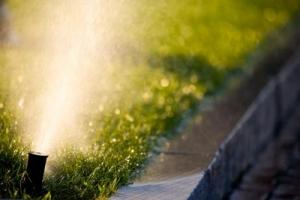 The inner workings of a sprinkler head are a bit trickier. Even a small rock or piece of debris getting into the plunger can stop the shut off valves from working. Most pop up heads have two valves, an upper and a lower head. If one of the valves gets stuck, it will leak water even after the system is shut off. This can lead to puddling of water and swampy areas on the lawn. Beneath the valve system is a plunger system that can also cause problems if it debris gets down that far. The rubber plunger is attached to a gasket and solenoid system. Even a little bit of sand in the gasket can eventually tear through the gasket. If the gasket is cut and water reaches the solenoid it can short it out. This can cause the riser to fail to lift and the pop up head not to pop up.
Our Richardson sprinkler repair techs are more than pop up head guys. We can find leaks in the PVC lines that feed the individual sprinkler heads. We use the latest ultrasonic underground leak detection equipment to find leaks fast. This allows us to fix the leak without having to dig up the entire feed line.
These are just a couple of the services that we offer. Call in our Richardson sprinkler repair team now and let us get your system back to its peak so you're lawn becomes the showpiece you deserve.